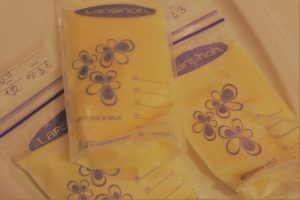 California Mother's Milk Bank 408-998-4550 – will only take if you have 100oz, they will do a phone interview, need 2 doctors notes that need to be signed, blood testing – same tests as when you donate blood hep B,C, HIV, they'll take milk up to 6 months old.
They will not take milk that has herbs in it like milk thistle, chlorella, if you've drinking mother's milk tea. They will not even interview you if you've taken these things even though they are safe for your baby and for you while breastfeeding. I can understand why because the milk donated to these milk banks is usually processed for premature babies in hospitals and they are very fragile and maybe compromised so even if it was me I would be extra careful to follow doctor's guidelines in caring for a baby that tiny and fragile.
If they will not take the milk you can check area hospitals to see if they need milk but my thought is that their guidelines will be very similar.
You can see about informal milk sharing on websites like human milk 4 babies.com or eats on feets.
My personal suggestion is to do your homework on your own milk before donating it. If you have had an infection in the past 2 weeks and I would even say a month, don't donate that milk to anyone. Infection can include virus, bacteria, yeast, fungus etc. I have been exposed to many viruses in the past which is part of the reason I was diagnosed with Chronic fatigue syndrome and I have an appointment next month to find out what that means for my daughter, but if you have been sick with anything serious in the past be careful and do your homework also. I can report more on what I find out later.